Norway's Arctic Adventure
Taking you far north into the world's Arctic Circle, Mission05 has designed the ultimate Arctic photography experience deep within Norway's Lyngen Alps and Troms County. Journey through Norwegian fjords, delve deep into canyons and explore the isolated islands and beyond, as we blur the lines between luxury and adventure. With exclusive lodge access, your private chef will create mouthwatering masterpieces each day, waiting for your return from ultimate Arctic adventure.
The Ultimate Arctic Photography Experience
Each day, embark on a new environment, with the support and leadership from your destination and photographic guides. Using Lyngen Lodge as your base, embrace the boutique luxury, and breathtaking scenery each day. Summit to the sea in the lodge's resident boat, and keep a watchful eye out for dolphins and whales. Capture the mountains from up high by helicopter, and zoom back down on skis after an aerial workshop like no other. Snowmobile from your front door, and embrace the wintery temperatures as you seek out the Northern Lights with your camera in tow. After this Arctic photography workshop, you will be enlightened by beauty, and educated to understand the complex settings of your camera.
Complete with your Mission05 leader and photographic guide, you will have the chance to handle £50,000 worth of production-level PhaseOne camera equipment, yours for the duration of the expedition. Observe nature's beauty above and below on this all-encompassing education workshop, that will enable you to produce your best photographic artwork yet.
A production team will seamlessly lead you into the Arctic Circle… and beyond.
Departure

Lyngen Lodge, Norway

Departure Time

September to May

Included

Norway's Arctic Adventure
1
Day One - Arctic Arrival
Highlights
Details
Hop onto the fleet of helicopters awaiting your arrival, as you are whisked away to your uniquely located lodge surrounded by the Lygen Alps - your home for the next 7 nights.
Settle in and become accustomed to your surroundings as we introduce you to the support team and complete your safety brief over welcome drinks. Focussing on your photography apparatus amounting to a value of £50,000 per person, you will come hand-in-hand with your production-level Phase One camera gear, which is yours for the duration of the experience. Create imagery that is pixel perfect, with ongoing advice, training and guidance to maximise your time here in the Arctic Circle as you adventure each day, out into nature's wonderland. Here, you will have the opportunity to experience a one-off production environment whilst enjoying an authentic luxury setting.
2
Day Two - Seven - Auroras & Adventures
Highlights
Details
Over the next 6 days your experiences shall be rich and rewarding. All from under one roof, each day your guides shall lead you from Lyngen Lodge, out into the unknown and a new region of the Troms County. Take the resident boat out into the Norwegian fjords as you keep your eyes peeled for dolphins and whales deep below. Snowmobile across virgin snow. Feel the rush as you come face to face with herds of reindeer. Submerge yourself in local culture and acclimatise to your surroundings. This immersive expedition will open your eyes, unleashing your inner photographer, and driving the passion all the way through your photographs. Each day, you will be faced with a new canvas, and every day you will reflect on a library of differing images.
3
Day Eight - Download & Departure
Highlights
Details
Now your expedition has come to an end, we reflect on the experiences over the last 8 days. Departing some of the most dramatic and awe-inspiring views in the world, it is time for your remote life to return to reality. Enjoy your final breakfast with the group before departing Lyngen Lodge by helicopter. Soar to the skies once more and view the Lyngen Alps from above. Look down on the islands and islets, glaciers and caves, dramatic snowy landscapes and local rabbit hutches of homes, that are littered below. For your time with
Mission05
has come to an end, remember that your memories will forever be available to you, in what was one of the most hands-on photographic expedition in the region.
TOUR LOCATION
Troms County, Norway
Tromso & Lyngen Alps, Norway
The northern area of Norway is one of the most spectacular landscapes you will see in the world. Dramatic mountain ranges and deep fjords surround the landscape nearby, and continue to run elegantly into the archipelago of islands that contain Lofoten. A destination where the mountains truly meet the sea, this is isolation. This is beauty. This is nature at it best.
Placing you in the epicentre of activity, each day you have the opportunity to choose between land and sea, up or down, wildlife or landscape. Feel the adrenaline rush as you take off on snowmobiles, or take a more leisurely approach by foot, all the while gazing overhead in hope that the stars are illuminated and the sky is dancing.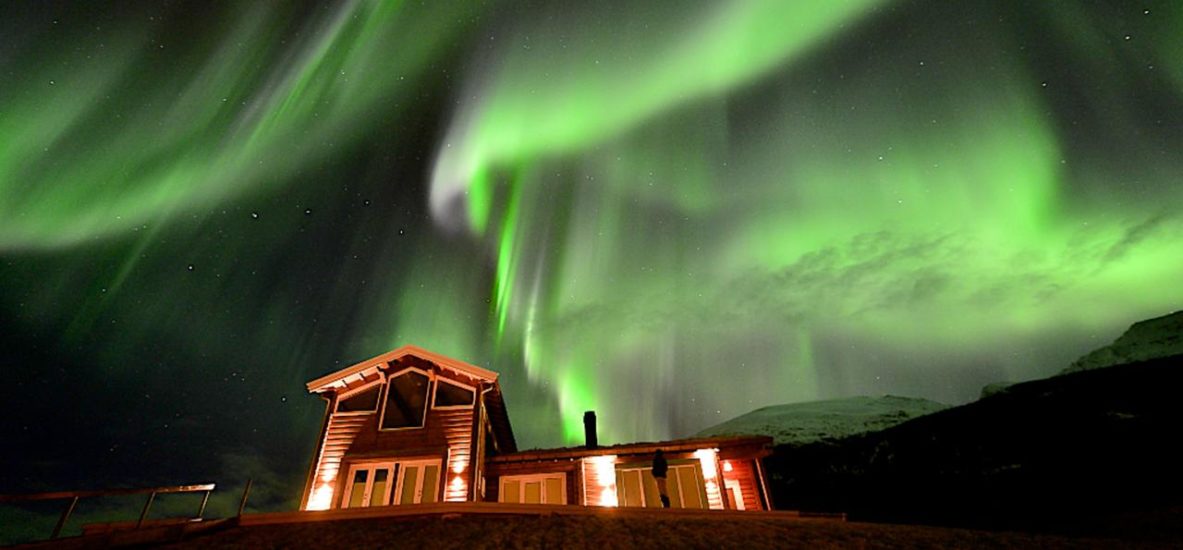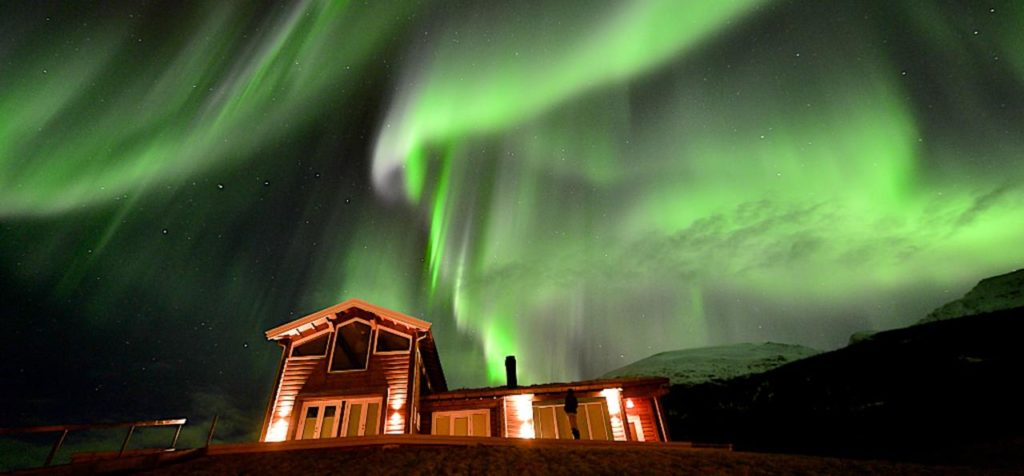 Lyngen Lodge, Norway
The Heart of the Lyngen Alps
Lyngen Lodge is another of our superb base camp lodges. Complete with an incredible back story, the property's foundations (and its owners) are built entirely from a place of personalised passion. Allowing for a relaxed stay, the natural Norwegian charm humbly eludes to luxury, whilst at the same time shouting about it allover. Open fires, communal bar and library room gives a homely feel, delivering a perfect balance of inclusive intimacy and high level service.  Offering a private in-lodge chef, jacuzzi under the stars and one-site sauna, exclusive hire of this lodge is yours for the 7 night stay.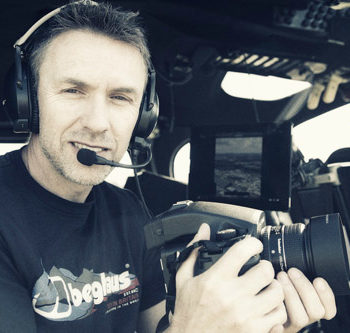 Founder and creator of Mission05 is awe-inspiring photographer, intrepid traveler and marketer of 30 years, PETE WEBB, Merci Visual. Named one of Europe's leading lifestyle & adventure artists, Pete's style originally emerged from surf and mountain, and now boasts some of the most prestigious clients and brands in a multitude of sectors. Capturing the perfect shot in challenging environments, Pete holds an innate ability to tell a story through his images. Through Mission05, he now creates the opportunity to educate and explore the world through a lens, with the most discerning of clients.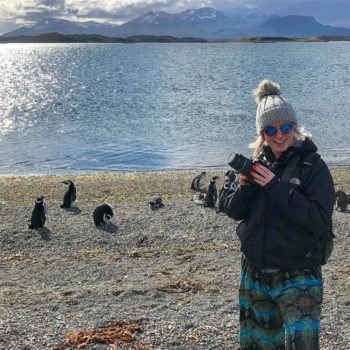 Head of our travel and VIP services, meet REBECCA PUTTOCK - with a world of experience in the travel and concierge sectors, Rebecca boasts 13 years as a luxury travel planner to the top 1% wealthiest in the world, celebrities and royalty, and has visited over 65 countries across 05 continents. Specialising in superyacht, private jet and bespoke tailor-made, she designs, curates and manages every bespoke itinerary from scratch to ensure Mission05's experiences are not only educational, but life-changing for our clients.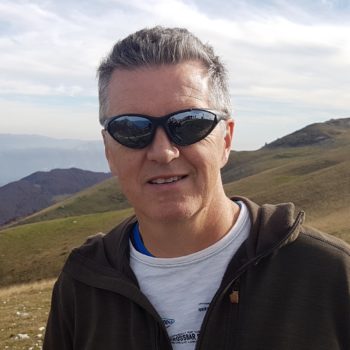 The key-holder to the  unimaginable limits clients experience on their Mission05 adventures, Steve boasts over 20 years as an adventurer, professional photographer, editor and author, including three international bestsellers. Highly regarded in his field, Steve's industry knowledge is showcased across all media platforms, leading him to become one of the best spokespersons, educators and judges in the photographic field. Steve shall be leading our missions for the ultimate next generation photography experiences.